I don't even know how many times I've mentioned it on this blog, on other blogs, among friends or family, but visiting the Florida Keys, from Key Largo to Key West, it is a spectacular trip that you have to do at least once in your life… or in my case many times because you begin to miss it, so you have to do it again.
On other posts, I've talked about the sunset in Key West and about some spots to eat, here I am going to show you about some activities or places to visit while touring the beautiful Florida Keys.
Before you start reading, here's a video I made for one my travel blogs (AccesoTotal29) a while ago about the Florida Keys:
Here's a list of must-see and do when driving down to Key West, in order of how you'll find them from Key Largo to Key West.
John Pennekamp Coral Reef State Park
This state park is located in Key Largo, check the map here, and it is absolutely gorgeous.
To enter the park you have to pay a fee and it depends on whether you enter by bike, by car with a group or even to camp. Here's a link from the official page for more information about prices and schedule.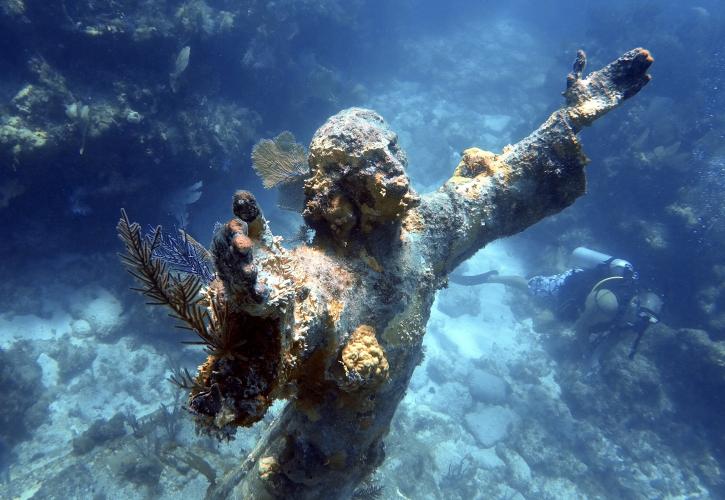 In this park you can take a boat tour to get to know the area better, even the boats have a see-through floor so you can see the fishes, corals and more.
There are also fishing areas, hiking trails, picnic tables and grills, even areas to swim.
Islamorada Fish Company
If you are interested in camping items, fishing, boats… This is a good spot to visit. But it is not just a store, it also has an excellent restaurant with a beautiful view to the sea.
From here you can also take a boat tour to go fishing.
Even if it is a quick stop, it is worth it to stop and check it out, especially during sunset since as the view is breathtaking.
Anne's Beach
Anne's Beach it is a small spot to go swimming for a little while or just sit and relax. So small that there is a little parking area, and small space to place an umbrella or towels to lay down on the sand.
There are 2 parking spots, both connected with a wooden path. The water is super crystal clear and no waves. I would say that it is a place to stop to rest along the way, enjoy the sea and the view for a while.
Sombrero Beach
This beach, located in Marathon is a bit bigger, and is a gorgeous view.
It has a parking lot, a small park under trees at the entrance, restrooms, and even a small park for children.
Crystal clear water, few or no waves, although there are areas with rocks, so pay attention to where you're walking. It would also be a good idea to wear aqua socks.
It's a bit off the main road (A1A), but it's worth it for a break or an afternoon visit if you're staying in Marathon.
Marathon has a small airport, several restaurants, hotels, and our next recommendation…
Seven Mile Bridge
I'd say it's a must stop. Before crossing the bridge (obviously you can't stop on the bridge), there's a stop with a parking lot so you can take a break, walk around and enjoy the view.
You can walk a bit on the old bridge or if you have a bicycle you can also use it on that bridge. There is also an area with covered benches from where you can see the sea and I am sure that the sunset is a spectacle from there.
There's not much to do here, it's just a resting point before you cross the 7-mile bridge that brings you closer to Key West.
Bahia Honda State Park
It is another state park that is breathtaking.
Being a state park you have to pay to enter. It's $8 per vehicle but here's a link with more information on fee and schedules.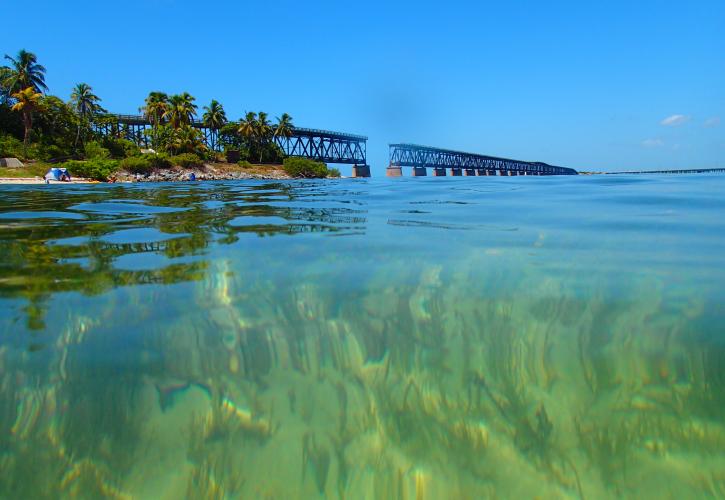 There are many activities you can do here. From swimming in the crystal clear and calm water that you can also snorkel.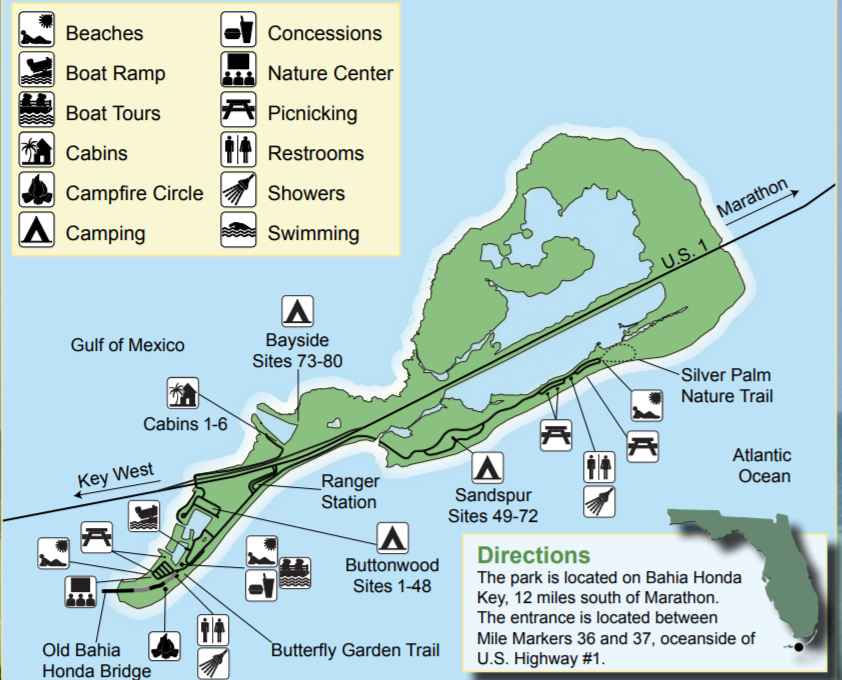 There are also areas to camp, with RVs or in tents, as well as cabins that you can rent and boat stands in case you arrive by boat. There is an option for everyone!
Duval Street
Obviously when you get to Key West you can't stop walking down the famous Duval Street. You literally cannot stop doing it since it is one of the main ones and where you will find many places to stop, whether it is for a delicious Key Lime pie or some delicious slushies.
In this street you can visit the famous restaurant and bar Sloppy Joe's. A point to try a delicious piece (or a whole foot) of Key Lime that are famous and delicious (for example, I can not avoid them) is Mattheessen's Homemade, although there are several places (and in all the restaurants you will find) this is one of my favorites.
Ernest Hemingway Home and Museum
The Hemingway Home and Museum is a place to visit in Key West. And more if you like cats, since there are about 50 cats here. I know they are all being take care of, because if I'm in a room with a single cat for few minutes, I will start to sneeze and the allergy hits me, and I was okay at all time while I was in the house.
The museum only accepts cash to enter, it is open every day from 9am to 5pm. Here's a link to the official site where you can read more information even have a copy of the guided tour in the language you prefer.
It is a very pleasant place to spend a couple of hours walking and learning a little more about the private life of the author.
Mallory Square
In Key West you will find this place with some shops, art galleries, a famous spot with delicious coffee "Cuban Coffee Queen".
Here is also the sunset celebration. It is not only to see the beautiful natural show, but you will also enjoy vendors with handicrafts, and even artists doing somersaults with swords or on a unicycle, and perhaps even with fire. It really is quite a show to spend some time in this area while enjoying the sunset. It's pretty much a must-see in Key West.
Truman Little White House
Harry S. Truman's Little White House in Key West, was President Harry S. Truman's Winter White House for 175 days during 11 visits.
Normally the place opens between 9:30 AM to 4:30 PM every day, including holidays. And if you buy the tickets online you can save some extra money. Here's a link where you can get tickets.
Southernmost Point of the Continental U.S.A.
It is a famous point but you will not spend more than 5 minutes in the area. Unless it's high season and the queue to take a photo is long (I've seen them!).
Dry Tortugas National Park
This is a place I haven't been to yet but it's on my to-do list the next time I'm down in Key West.
This national park is an island about 70 miles/113 km west of Key West. There is no way to get there by car, you can only get there by boat or even a seaplane.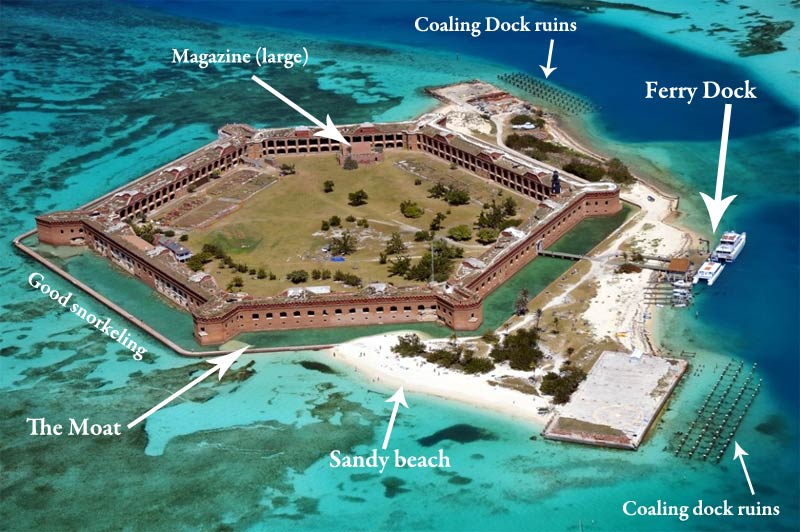 One of the options to get there is using the Yankee Freedom catamaran. It's a ferry that offers roundtrip service… hmm… let's start with the price and then what that price means…
Per adult it's $200… yup, but it's not just a short trip from Key West to this national park, the tour includes breakfast on the boat and lunch at the Dry Tortugas, a tour of 30min to 1 hour, access to the park for 4 hours and a half and also includes equipment for snorkeling and life jackets that you can use during your stay in the park. In total there are almost 10 hours of walking.
Another option, if you like a little more adventure, for a little more you can spend the night in the national park. Here's the link for more infor about tickets and how to make a reservation.